Wreaths Across America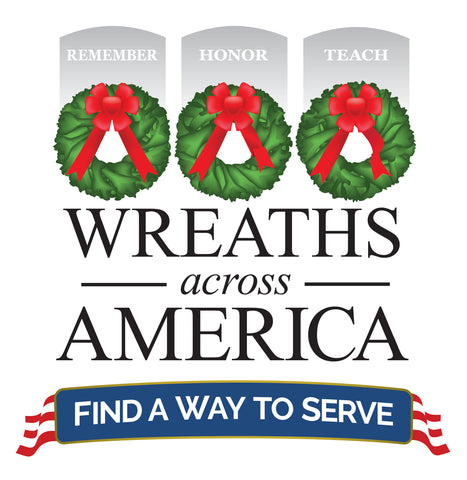 Introduction To Wreaths Across America:
Wreaths Across America is a 501(c)(3) nonprofit organization founded to continue and expand the annual wreath-laying ceremony at Arlington National Cemetery begun by Maine businessman Morrill Worcester in 1992. The organization's mission – Remember, Honor, Teach – is carried out in part each year by coordinating wreath-laying ceremonies in December at Arlington, as well as at thousands of veterans' cemeteries and other locations in all 50 states and beyond.
How it Works:
Join Armed Forces Gear in supporting Wreaths Across America by sponsoring a veterans' wreath to be laid on a veterans grave this year on National Wreaths Across America Day, December 17th. Each wreath is $15 to sponsor and all proceeds go directly to Wreaths Across America and their mission to Remember, Honor, and Teach about the sacrifice of our Service Members. Click the Image Below to add a Wreath to your cart. Armed Forces Gear will be matching the first 100 donations by our customers.
Their Story: The American Dream is Not Lost…It Is Remembered!
By WAA Staff Sean Sullivan and Amber Caron
Pierre Claeyssens, who was rescued by U.S. Forces in Belgium said, "To be killed in war is not the worst that can happen. To be lost is not the worst that can happen…to be forgotten is the worst."
Wreaths Across America (WAA) is a national non-profit organization best known for remembering fallen veterans with wreaths placed each December at Arlington National Cemetery. However, the organization is much more. As of 2019, the nonprofit placed more than 2 million sponsored veterans' wreaths at over 2,100 participating locations nationwide while offering various year-long programs. These programs help live a mission to remember, honor and teach.
In the beginning, founder, Morrill Worcester, a 12-year-old paper boy for the Bangor Daily News, won a trip to Washington D.C., where Arlington National Cemetery became an inspirational location. His pilgrimage served as a consistent reminder, through career and life, that opportunities stemmed from the values and freedom afforded to us by our nation's veterans.
After years of hard work, Morrill founded Worcester Wreath Company in Harrington, Maine. In 1992, Worcester Wreath had a surplus. Morrill saw this as his opportunity to honor our veterans with hopes of returning to Arlington. With the aid of Maine Senator Olympia Snowe (ret.), the first 5,000 wreaths were placed that year at Arlington National Cemetery. As plans were underway, other individuals and organizations shared Morrill's spirit and working together built an annual mission that went unnoticed for many years.
In 2005, a photo surfaced of Arlington covered in snow, adorned with wreaths. This picture became a viral internet sensation before there was even such a marketing term. After, thousands of requests poured in, from people wanting to help emulate the Arlington success on the local level, prompting the official formation of Wreaths Across America the national nonprofit in 2007.
The newly formed 501c3 began its national effort by sending seven ceremonial wreaths to every state (one for each branch of the military, and for POW/MIAs). The ceremonies took place in nearly all of the 50 states and Washington, D.C., with a focus on family during the holidays. As the organization grew from volunteer support, a network of local groups and cemetery locations began to emerge.
Simultaneously, groups began to escort the wreaths to Arlington. This started an annual tradition called "The Veterans Honor Parade" which travels the east coast in early December. This part of the mission grew into a multi-mile long convoy which acts as an ambassador by stopping at schools, monuments, veterans' homes and local communities as the mission of the organization is shared.
In 2008, over 60,000 volunteers helped move the mission, placing 100,000 wreaths on veterans' headstones. Recognizing the organizations impact, the United States Congress unanimously voted to declare "National Wreaths Across America Day" to be held annually, on the second or third Saturday of December.
British street artist Bansky once wrote, "They say you die twice. One time when you stop breathing and a second time, when somebody says your name for the last time." So, it wasn't enough to say "we covered Arlington" because that's a mission half completed. When a volunteer places a wreath on a veteran's headstone, WAA encourages them to speak that veteran's name aloud, thank them for their service and sacrifice, reflect on their life as person and member of a loving family and never let that service member die a second time, including all 226,525 at Arlington starting in 2014, and millions more at cemeteries nationwide.
Presently a small, but dedicated staff and more than 7,000 core volunteers across the country, work tirelessly on year-long programs that help accomplish this ongoing mission. That number grows to more than 2 million, a third of whom are children, who participate in the annual wreath laying events nationwide! These programs are designed to help highlight the awe-inspiring work of our volunteer groups and locations, civic groups, supporters, donors, and others that enable this mission to flourish regardless of challenges and changes.